Testimonials
4
4
MetaReview
4
AboutMyClinic
सुमित्रा क्षीरसागर
, Patient
१३ ऑगस्ट रोजी मी बागेत फिरायला गेले असताना शेवाळे वरून घसरून पडले . मला उठता येईना ही पाहून माझी सून व नात मला संजीवन हॉस्पिटलला घेऊन गेले . तिथे डॉ नकुल शहा ह्यांची भेट झाली . आमच्या नशिबाने डॉ इतके चांगले निघाले की आम्ही त्याची कल्पना करू शकलो नाही त्यानंतर उत्तररोतर त्याची प्रचिती आम्हाला आली व ते आमचे चांगले मित्रच बनले . आता ऑपरेशन होईन 3 महिने झाले व माझी उत्तम प्रगती झाली आहे . मी स्वतःची स्वतः पुर्णपणे कोणाचीही मदत न घेता चालू शकते . आता मला कोणीही विचारले की मी डॉ. नकुल शहा ह्यांचे नाव सुचविते, कारण ते पेशंटची उत्तम प्रकारे काळजी घेतात व असा डॉक्टर मिळण्यास नशीब लागते. त्यांना उदंड आयुष्य लाभो ही देवा चरणी प्रार्थना. माझ्या प्रमाणे पेशंटचे अनेक आशीर्वाद व शुभेच्छा डॉक्टर ह्यांना लाभो हीच प्रार्थना आपली पेशंट सुमित्रा क्षीरसागर
Dec 14, 2019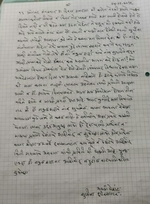 I was suffering from Avascular Necrosis of the left hip, I had started a non surgical treatment from a well known orthopedic surgeon in Mumbai as I was working in Mumbai . As the days passes my pain became unbearable and I resigned from the job and came to my hometown Pune. I decided to go for the hip replacement surgery in Pune , as I was short of money I decided to go for a govt hospital . I got admitted and I was operated . I was told that I will be fine in a few days , but then they realised my THR is infected and then started series of operations . They operated my three times same leg , same position but with no results . I had a very big cavity in my wound which was not getting healed . After three surgeries they called Dr Nakul Shah for my treatment . He came and just saw the wound for a few seconds and went . Then he suggested a treatment to the doctor who were treating me . I was just wondering who this doctor is , so confident . I asked his name to my doctors in govt hospital and they said he is a well known surgeon . So I googled his name and found out many interviews of his on the Television . I was really impressed . Meanwhile a fourth surgery was done . I was hospitalized from June to a almost September in govt hospital . I was so frustrated with all this that I used to cry in hospital and never thought I will be able to walk again . But then I decided to go for hip replacement surgery by Dr Nakul Shah , he operated me and although my case was the most complicated case he was very confident. I was operated on 1st October and with may complicatios arising after surgery he guided me and whatever he suggested for me worked . Today I am walking without support and able to join a job . Dr Nakul Shah is like GOD for me , gave me a new life . He is a magician for sure and if you do not visit him for your orthopedic needs then definitely you are missing a great treatment . Thanks Dr Shah , You are the best Orthopedic Surgeon I have ever visited
Dec 14, 2019
Dear Dr. Nakul Shah, I have no words left in my dictionary to thank you. This day 6 months earlier I had to undergo an ACL reconstruction surgery. This was something huge about to occur in my life and I had almost lost the courage to face it. But with each consultation visit of yours, you made me get more and more comfortable. During the time of surgery, I was so nervous, but you whooshed all of that nervousness and the fear. Your kind and warm gesture just made me forget the trauma that I was going through. Post those three and half hours of surgery, when I was moved back to my room, you came put your hand on my head and said "Bala kasa vattay". That was so comforting. You always had my back no matter what. I had lost faith in myself and was looking forward to the following visitations. Every time I met you, your gesture, your warm words, yes those things help me believe myself once again. I would not have been able to recover so fast without your help! Thank you so much for helping me get back on my feet once again!
Dec 14, 2019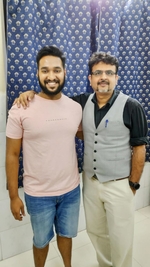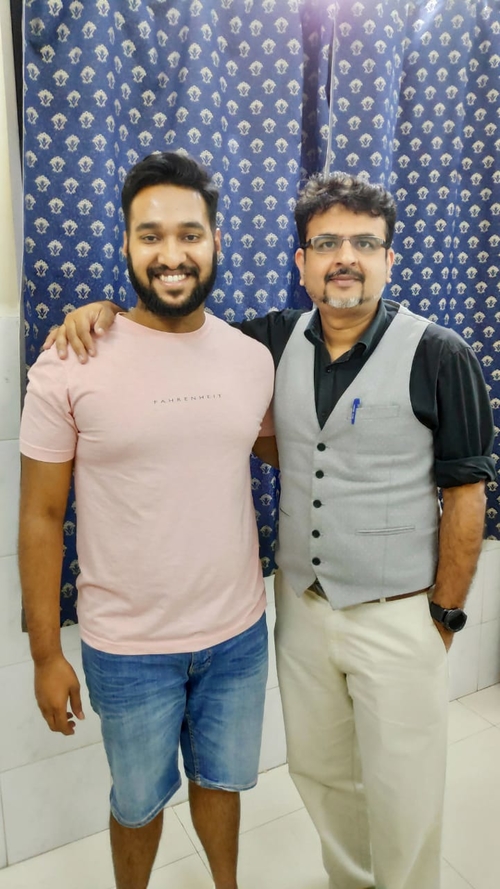 To the best doctor I have met so far in my life who treats his patients as his family and always with a smile on his face. Many thanks for treating me so well, I will always remember my first ever hospital experience in a good way just because of you. Thanks again and all the very best sir for your future endeavors.
Dec 6, 2019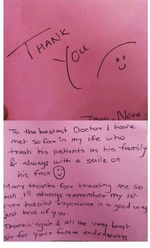 Words of gratitude by the patients of Dr. Nakul Shah who had undergone Knee Replacement.
Aug 12, 2019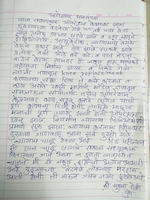 Vaishali Shukla
, Patient
Because of Dr. Nakul Shah I am living a painless life. I was suffering from rheumatic arthrities for last 20 years and when i had taken the decision of going forward with knee replacement i was worried and scared of the operation as i have two sons hence was worried about their and mine future.
Feb 26, 2019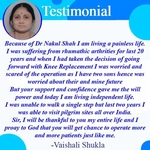 Uttamsingh Manakoo
, Patient
My husband met with an accident his right elbow had 8 fractures . It was really a very serious issue and worse to understand and solve. We felt blessed and fortunate to be referred to dr. Nakul Shah . He is Kind, caring , attentive, has lots of patience and i must say his abilities are unmatched.
Feb 26, 2019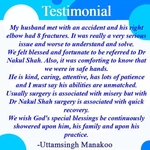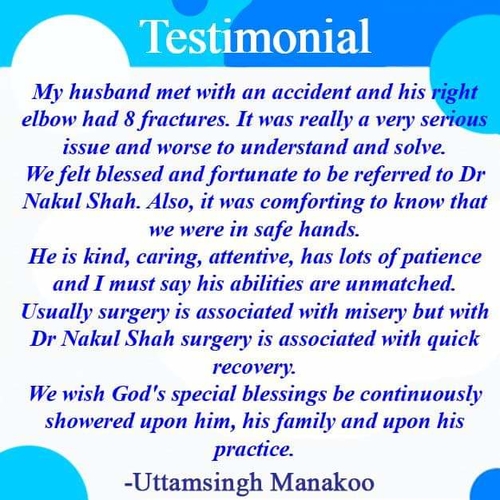 Khusboo Goplani
, Patient
When I met Dr Nakul Shah I truly found my life saviour. He is one of the most brilliant doctors I have ever met. He not only gave me treatment but also gave me motivation.
Feb 19, 2019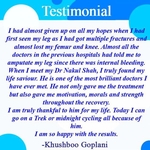 I visited with my mother who was suffering from joint pain for a long period of time. Dr. Nakul advised my mom to exercise regularly and also about the diet she should take. Now I can see my mom happy and doing her household work. Thanku so much
Dec 5, 2018
Once again I am sincerely thanks to you and your staff for excellent care and consideration of received while my mother was in the hospital. Without your care and treatment it was not possible. 
Feb 23, 2017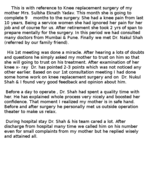 Pradeep Chaudhari
, Patient
Within two months of operation l was able to walk on my own feet and now can live a normal person's life. I did not came across any trouble with respect to my knees and can walk comfortably. Thank you so much from bottom of my heart to Dr. Nakul Shah.
Feb 21, 2017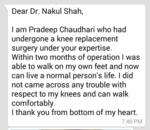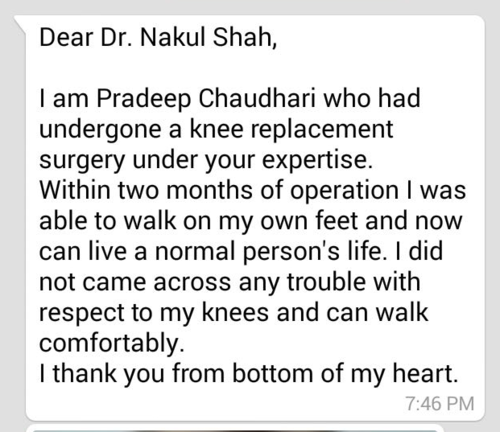 Yashwant Risbud
, Patient
I am a diabetic patient and my experience of undergoing the knee replacement surgery was very good with Dr Nakul Shah.
Feb 21, 2017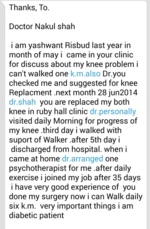 AboutMyClinic
^